Get Asian Efficiency's best posts and content in one book
You most likely have read some of the posts on our blog and liked it.
There is so much more insider information that we can offer to help you skyrocket your productivity. That's why we are happy to announce the Asian Efficiency Primer - it contains all of our best content in one book, to help you be more productive.
This is the fastest way to get yourself up-to-speed on the latest time management and personal productivity tips and techniques that work in today's fast-paced environment.
As you know, when you first read the Asian Efficiency blog, there are hundreds of posts you can read for free. We often get asked which posts first-time readers should read, and if we could create a guide for those who are new to Asian Efficiency.
So by popular demand, we have put together this compilation of Asian Efficiency's best posts as voted by hundreds of thousands of readers. And we call it The Asian Efficiency Primer.
Here's what you can expect:
We'll show you how to go from "I just woke up" to "I'm done with my day" in less than 3 hours with just a couple of simple routines.
You'll get the top 2 techniques for beating procrastination within a couple minutes... every single time you feel like procrastinating.
You'll save yourself at least 1 hour a day on email by using our fool-proof workflow that hundreds of thousands of people use every day.
Discover how your partner and relationship negatively affects your productivity.
You'll learn how to actually use a calendar together with your phone, tablet and to-do list in sync, to get the same amount of work done in less time and with less stress.
You'll never say "where is that document again?" after we show you the Asian Efficiency methodology for organizing your files, folders and documents.
50+ practical tips and solutions to free up at least 10 hours a week so you have more days off for friends, family, hobbies and side-projects.
And lots more.
If you like the content on the blog, then we guarantee that you'll like the Asian Efficiency Primer. Plus you're in for a treat.
Normally our product prices fall along the premium end of things - this is because we want customers to make sure they're ready to invest in really improving themselves (we hate it when people buy stuff and never use it). But this time we are making an exception. If you are serious about improving your productivity, we want to help you.
That's why we want to make this affordable for anyone who is new to Asian Efficiency. As a result, the Asian Efficiency Primer is now available for just $29 $9.99. For less than 3 cups of coffee, you will unlock the keys to more free time, happiness and success.
As with all of our products, we offer a 100% 60-day money back guarantee - we really believe in our products and because of that we can make sure that all the risk is ON US. If you feel like the AE Primer doesn't help you be more productive than 3 cups of coffee, just let us know and we'll refund you right away. No questions asked.
Common Questions
Can't I get all this content for free on the blog?
Yes. Everything in AE Primer is available on the blog for free. This book is for anyone who wants the convenience of all our best content in one book. Plus, the content has been updated and corrected to incorporate common reader feedback, questions and flow.
I really like your content but I have trouble implementing stuff. Can the AE Primer help?
Yes. We've designed this book to be very practical and very actionable. We have edited out all the unnecessary theory and fluff and packed it with tips, techniques and solutions that you can implement right away. Every chapter ends with specific action steps for you to implement right away.
In what format is it available?
It is available in both PDF and ePub formats which allows you to read it effortlessly on various devices and tablets.
Where can I get it?
"It contains a good combination of directly applicable information and food for thought. Plenty of information to work on and I find it very useful!"
- Brooke H, UK.
"It's helped me much concerning my email organizing. I have more time and energy afterwards. It's a pretty big book full of things I've never seen any where else."
- George C, Puerto Rico.
"Great ideas and great presentation. I'm getting good results. Thanks."
- Ron D, USA.
"I read many books about organization, motivation, goals, etc. Your work, in my opinion, is valuable because you select exactly what I like the most in many books and organized it in a single piece of text. I love that!"
- Lorenzo R, Brazil.
"Fantastic. I found the only self help book / program that really worked."
- Muhammad Q, Pakistan.
"Many helpful tips that can be applied immediately, without changing everything."
- Jutta A, Germany.
"Outstanding. Just the basics, direct to the point."
- Fabio F, Brazil.
We hope to welcome you as one of our premium customers and to help you take your productivity to Asian Efficient levels.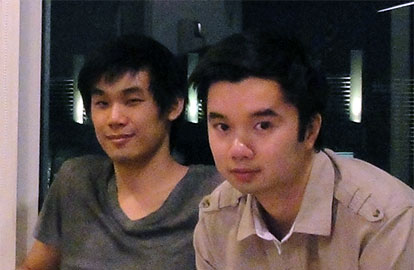 - Aaron and Thanh, Asian Efficiency
P.S. This is the easiest way to get started in becoming more productive, by having all of our best content in one book - to guide you step-by-step all the way.
P.P.S. Remember, we have a 100% 60-day money back guarantee. Try it out, and if you don't feel it's worth the money, let us know and we'll refund you right away.